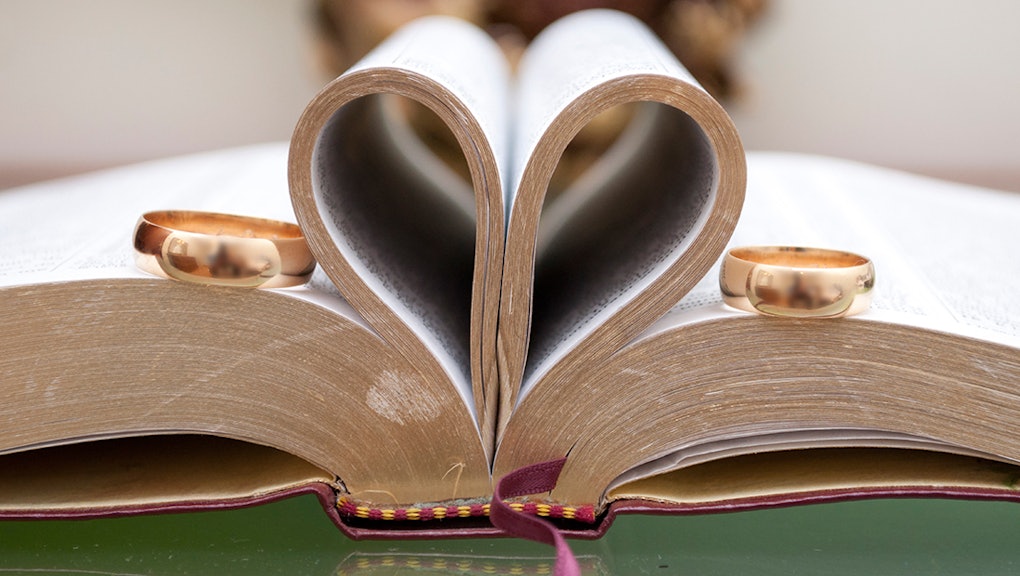 I have decided at every place I have ministered…to spend time each year on lessons related to marriage, parenting, and the home in general. The home is God's creation, the first divine institution, and marriage was God's idea.
Genesis 2:7 (ESV) then the LORD God formed the man of dust from the ground and breathed into his nostrils the breath of life, and the man became a living creature.
Genesis 2:18-24 (ESV) Then the LORD God said, "It is not good that the man should be alone; I will make him a helper fit for him."
19  Now out of the ground the LORD God had formed every beast of the field and every bird of the heavens and brought them to the man to see what he would call them. And whatever the man called every living creature, that was its name.
20  The man gave names to all livestock and to the birds of the heavens and to every beast of the field. But for Adam there was not found a helper fit for him.
21  So the LORD God caused a deep sleep to fall upon the man, and while he slept took one of his ribs and closed up its place with flesh.
22  And the rib that the LORD God had taken from the man he made into a woman and brought her to the man.
23  Then the man said, "This at last is bone of my bones and flesh of my flesh; she shall be called Woman, because she was taken out of Man."
24  Therefore a man shall leave his father and his mother and hold fast to his wife, and they shall become one flesh.
The sanctity of marriage (vv. 23-24). Paul's instructions create a head-on collision with the beliefs and practices of our culture. God's pattern for marriage wasn't devised by Adam. "Marriage was born in the loving heart of God for the blessing and benefit of mankind."
No matter what the courts may decree, or society may permit, when it comes to marriage, God had the first word and He will have the last word. His original plan was that one man and one woman be one flesh for one lifetime. To say the same thing in a different way: God plan was for Adam and Eve, NOT Adam and Steve.
God had at least two main purposes in mind when He performed the first marriage in the Garden of Eden.
First, He wanted suitable companionship for Adam, so He gave him a wife. He gave Adam someone who was his equal and therefore could understand him and help him. As two people live together in holy matrimony, the experience either brings out the best in them or the worst in them. It's an opportunity to exercise faith, hope, and love and to mature in sacrifice and service to one another for God's glory.
Second, marriage provides the God-given right to enjoy sex and have children. The Lord commanded them to "be fruitful and multiply, and fill the earth" (Gen. 1:28). The sexual act is a gift from God to a married couple.
Who is in charge? A fair question, that deserves a Biblical answer.
5:21 Submit to one another out of reverence for Christ.NIV This is the last participial phrase flowing out of being filled with the Spirit and functions to introduce verses 22-33.
In 5:21, Paul says that the one who is filled with the Spirit not only reflects God's goodness in speech and attitudes but also manifests it in willingness to submit to others out of reverence for Christ.
1 Corinthians 11:3 (ESV) But I want you to understand that the head of every man is Christ, the head of a wife is her husband, and the head of Christ is God.
Submission or headship often has unpleasant implications for modern Christians, perhaps because this principle has been abused and has been used to justify overbearing and self-serving behavior. The chain of authority is God, Christ, man, and woman.
People often misunderstand the concept of submitting to another person. It does not mean becoming totally passive. Christ submitted his will to the Father, and we honor Christ by following his example. When we submit to God, we become more willing to obey his command to submit to others, that is, to subordinate our rights to theirs.
In the church, the believers are willing to learn from, serve, give to, or be corrected by others in the fellowship. Such submission can allow growth both individually and corporately as the believers seek to follow Christ.
Our motives should be "reverence" (literally, "fear") for Christ. We should not treat one another rightly just because it is expected or because we will be well regarded but because one day we must give account to Christ of how we have lived.
Ephesians 5:22-24 (ESV) Wives, submit to your own husbands, as to the Lord. 23  For the husband is the head of the wife even as Christ is the head of the church, his body, and is himself its Savior. 24  Now as the church submits to Christ, so also wives should submit in everything to their husbands.
Guys, get ready for this and realize that 3 1/2 verses are addressed to Christian wives, while 8 1/2 verses are written to Christian husbands.
Submission in the church should follow from submission in the home. The home, the foundation for relationships and personal growth, must be an example of peaceful submission.
In a marriage relationship, both husband and wife are called to submit. The relationships between husbands and wives are a microcosm of the larger picture of church relationships.
Paul spoke first to the wives, explaining that they were to submit voluntarily to their husbands as to the Lord. The words "as to the Lord" mean "as is fitting to the Lord." Our concept of submission must come from that which exists between Christ and the church: Christ loves the church, and she submits to him.
We must not base it on either a feminist or chauvinist view. Christian marriage involves mutual submission, subordinating our personal desires for the good of the loved one and submitting ourselves to Christ as Lord. The wife's submission to her husband is one way that she can demonstrate her submission to Christ. She does this voluntarily out of love for her husband and for Christ.
The best thing a woman can do for her husband is to make it easy for him to do the will of God. – Elisabeth Elliot Green
Paul explained that the husband is the head of the wife as Christ is the head of the church. In other words, the husband is the spiritual head of the family, and his wife should acknowledge his leadership.
Real spiritual leadership involves service and sacrifice. Christ as head of the church is also its Savior. Christ gave his life for the church. So, as the church submits to Christ, so also wives should submit to their husbands in everything.
A wise and Christ-honoring husband will not take advantage of his leadership role, and a wise and Christ-honoring wife will not try to undermine her husband's leadership. Either approach causes disunity and friction in marriage.
For the wife, submission means willingly following her husband's leadership in Christ. For the husband, it means putting aside his own interests in order to care for his wife.
Submission is rarely a problem in homes where both partners have a strong relationship with Christ and where each is concerned for the happiness of the other. It takes both.
What if the wife is married to a man with little or no spiritual interest? What is she to do? (Of course, it is best if she marries a faithful, devoted Christian). We told our 1,200 students and over a dozen teachers that "the worse thing in the world is to be married to the wrong person." It is often the female who fears being alone that is compelled to 'marry the wrong person.' Being single allows you more time to serve the Lord and those around you.
1 Peter 3:1-7 (ESV) Likewise, wives, be subject to your own husbands, so that even if some do not obey the word, they may be won without a word by the conduct of their wives,
2  when they see your respectful and pure conduct.
3  Do not let your adorning be external—the braiding of hair and the putting on of gold jewelry, or the clothing you wear—
4  but let your adorning be the hidden person of the heart with the imperishable beauty of a gentle and quiet spirit, which in God's sight is very precious.
5  For this is how the holy women who hoped in God used to adorn themselves, by submitting to their own husbands,
6  as Sarah obeyed Abraham, calling him lord. And you are her children, if you do good and do not fear anything that is frightening.
7  Likewise, husbands, live with your wives in an understanding way, showing honor to the woman as the weaker vessel, since they are heirs with you of the grace of life, so that your prayers may not be hindered.
     These verses are important for what they do NOT say as for what the DO say.
They do not tell her to leave, to nag, or to lead! They tell the believing wife to act like a faithful Christian and her example is strong enough (without words) to "win him over" if he has a mind to move in that direction.
5:25-26 Husbands, love your wives, just as Christ loved the church and gave himself up for her, in order to make her holy by cleansing her with the washing of water by the word.NRSV
I would have expected Paul to reason in this way: Husbands are to manifest the headship of Jesus Christ over His church, and thus they are to be the spiritual leaders of their wives. If the wives are commanded to submit, then the husbands surely must be instructed to lead. But they are not. Instead of commanding husbands to lead their wives, Paul instructs them to love their wives.
These verses show a high view of marriage. Here marriage is not a practical necessity or a cure for lust but a picture of the relationship between Christ and his church! Husbands are called to love their wives just as Christ loved the church and gave himself up for her.
That role is nothing less than overwhelming: to love their wives as Christ loved his church. If the task of submitting to male headship seems burdensome to wives, the obligation to love as Christ did will seem out of reach to husbands.
Christ sacrificed himself for the church because of his love for it. Husbands, then, should be ready to make whatever sacrifices are necessary for their wives. Marriage is a holy union, a living symbol, a precious relationship that needs tender, self-sacrificing care.
How are men to do that? The same way Christ loves the church: sacrificially, compassionately, gently, and lovingly. Jesus laid down his life for the church; husbands are called to give themselves unreservedly for their wives and children.
John Stott summed it up well when he wrote of Jesus, "His headship expresses care rather than control, responsibility rather than rule." Healthy, Spirit-led relationships are not concerned with power, with who's in control. They are concerned with Christlikeness, with honoring him in their relationship with one another.
How should a man love his wife? (1) He should be willing to sacrifice everything for her. (2) He should make her well-being of primary importance. (3) He should care for her as he cares for his own body. No wife needs to fear submitting to a man who treats her in this way.
Ephesians 5:27-28 (ESV) so that he might present the church to himself in splendor, without spot or wrinkle or any such thing, that she might be holy and without blemish. 28  In the same way husbands should love their wives as their own bodies. He who loves his wife loves himself.
In the same way means that there exists between the husband and the wife the same union as between Christ and the church. Following from 5:27, husbands should be as concerned for their wife's spiritual growth and closeness to the Lord as Christ is for the church.
The Greek word for "love" is agapao, referring to that giving love that seeks the highest good for the other. When a husband loves his wife with this kind of love, they both will benefit. A wife need not worry about submitting to a husband who treats her this way.
5:29-30 For no one ever hates his own body, but he nourishes and tenderly cares for it, just as Christ does for the church, because we are members of his body.NRSV This refers not to self-centeredness but to self-preservation, the natural self-concern that causes people to feed and care for themselves. As a man nourishes and tenderly cares for his own body, he should also do the same for his wife, who is one with him.
Why? Again Paul draws on of the example given by Christ, who nourishes and cares for his body, the church. As Christ nourishes and cares for believers, so husbands must imitate Christ in their loving concern and care for their wives.
5:31 "For this reason a man shall leave his father and mother and be joined to his wife, and the two shall become one flesh."NKJV The union of husband and wife merges two persons in such a way that little can affect one without also affecting the other. Oneness in marriage does not mean one person's losing his or her personality in the personality of the other. Instead, it means that each person cares for the other as though caring for himself or herself, learning to anticipate the other's needs, helping the other person reach his or her potential.
In a natural marriage, the husband and wife complement one another. So Christ and the church must function together; Christ needed the church in order to assume his position as its Head. Christ is the Head of the church as the husband is the head of the wife.
5:32 This is a great mystery, and I am applying it to Christ and the church.NRSV The union of husband and wife, although sometimes imperfect, provides the best picture to describe the union of Christ with his church.
Why get married? Because you simply cannot see yourself living your life without that one, special person.
What does it mean? It means you totally give yourself to that spouse, helping them get to heaven as you commit your life to God, Christ, and His church.
What will happen in that home? You will treat that person as the most important person in the world and in your life. Pure and simple.