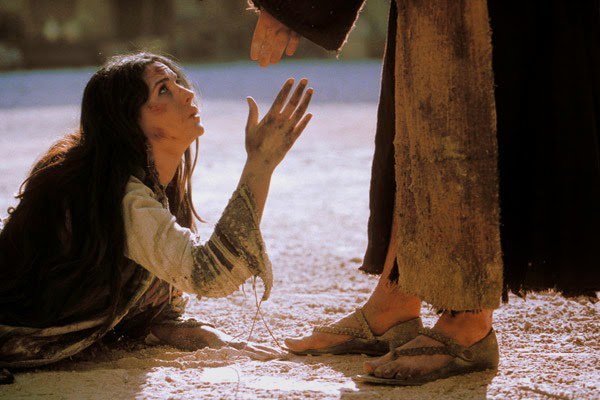 Blessed are the merciful, for they shall receive mercy. (5:7)
The first four beatitudes deal entirely with inner principles, principles of the heart and mind. They are concerned with the way we see ourselves before God. The last four are outward manifestations of those attitudes. Those who in poverty of spirit recognize their need of mercy are led to show mercy to others (v. 7). Those who mourn over their sin are led to purity of heart (v. 8). Those who are meek always seek to make peace (v. 9). And those who hunger and thirst for righteousness are never unwilling to pay the price of being persecuted for righteousness' sake (v. 10).
5:7 "Blessed are the merciful, for they will be shown mercy."NIV Merciful people realize that, because they received mercy from God, they must extend mercy to others. The word "merciful" implies generosity, forgiveness, and compassion, and it includes a desire to remove the wrong as well as alleviate the suffering. Jesus repeated this warning several times in this Gospel (see 6:12, 14-15; 18:21-35). We must be people who show mercy. That they will be shown mercy is not contingent upon how much mercy they showed; it is not that God will be merciful because these people have been merciful. Instead, believers understand true mercy because they have received mercy from God. Also, this promise does not guarantee mercy in return from people. The believers' comfort comes in the knowledge that, no matter how the world treats them, God will show them mercy both now and when he returns.
The concept of mercy is seen throughout Scripture, from the Fall to the consummation of history at the return of Christ. Mercy is a desperately needed gift of God's providential and redemptive work on behalf of sinners—and the Lord requires His people to follow His example by extending mercy to others.
His Mercy is More by Matt Boswell and Matt Papa
What love could remember no wrongs we have done
Omniscient, all knowing, He counts not their sum
Thrown into a sea without bottom or shore
Our sins they are many, His mercy is more
Praise the Lord, His mercy is more
Stronger than darkness, new every morn
Our sins they are many, His mercy is more
What patience would wait as we constantly roam
What Father, so tender, is calling us home
He welcomes the weakest, the vilest, the poor
Our sins they are many, His mercy is more
What riches of kindness he lavished on us
His blood was the payment, His life was the cost
We stood 'neath a debt we could never afford
Our sins they are many, His mercy is more
 Obtaining mercy—rejecting mercy (vv. 23-24; 5:7).
(Matthew 9:13)  "But go and learn what this means: 'I desire mercy, not sacrifice.' For I have not come to call the righteous, but sinners.""
(Matthew 12:7)  "If you had known what these words mean, 'I desire mercy, not sacrifice,' you would not have condemned the innocent."
Justice, mercy, and faithfulness are the important qualities God is seeking. Obeying the rules is no substitute. While it is good to pay attention to details, we must never lose our sense of priorities in spiritual matters. Jesus did not condemn the practice of tithing. But He did condemn those who allowed their legalistic scruples to keep them from developing true Christian character.
To discover its essence we will look at three basic aspects of mercy: its meaning, its source, and its practice.
The Meaning of Mercy
For the most part, the days in which Jesus lived and taught were not characterized by mercy. The Jewish religionists themselves were not inclined to show mercy, because mercy is not characteristic of those who are proud, self-righteous, and judgmental. To many—perhaps most—of Jesus' hearers, showing mercy was considered one of the least of virtues, if it was thought to be a virtue at all. It was in the same category as love—reserved for those who had shown the virtue to you. You loved those who loved you, and you showed mercy to those who showed mercy to you. That attitude was condemned by Jesus later in the Sermon on the Mount. "You have heard that it was said, 'You shall love your neighbor, and hate your enemy'" (Matt. 5:43).
But such a shallow selfish kind of love that even the outcast tax-gatherers practiced (v. 46) was not acceptable to the Savior. He said, "Love your enemies, and pray for those who persecute you in order that you may be sons of your Father who is in heaven…. For if you love those who love you, what reward have you?… And if you greet your brothers only, what do you do more than others? Do not even the Gentiles do the same?" (vv. 44-47).
Yet many people have interpreted this beatitude in another way that is just as selfish and humanistic: they maintain that our being merciful causes those around us, especially those to whom we show mercy, to be merciful to us. Mercy given will mean mercy received. For such people, mercy is shown to others purely in an effort toward self-seeking.
The ancient rabbi Gamaliel is quoted in the Talmud as saying, "Whenever thou hast mercy, God will have mercy upon thee, and if thou hast not mercy, neither will God have mercy on thee." Gamaliel's idea is right. When God is involved there will be mercy for mercy. "If you forgive men for their transgressions," Jesus said, "your heavenly Father will also forgive you. But if you do not forgive men, then your Father will not forgive your transgressions" (Matt. 6:14-15).
But as a platitude applied among men, the principle does not work. One writer sentimentally says, "This is the great truth of life: if people see us care, they will care." Yet neither Scripture nor experience bears out that idea. God works that way, but the world does not. With God there is always proper reciprocation, and with interest. If we honor God, He will honor us; if we show mercy to others, especially to His children, He will show even more abundant mercy to us. But that is not the world's way.
A popular Roman philosopher called mercy "the disease of the soul." It was the supreme sign of weakness. Mercy was a sign that you did not have what it takes to be a real man and especially a real Roman. The Romans glorified manly courage, strict justice, firm discipline, and, above all, absolute power. They looked down on mercy, because mercy to them was weakness, and weakness was despised above all other human limitations.
During much of Roman history, a father had the right of deciding whether or not his newborn child would live or die. As the infant was held up for him to see, the father would turn his thumb up if he wanted the child to live, down if he wanted it to die. If his thumb turned down the child was immediately drowned. Citizens had the same life-or-death power over slaves. At any time and for any reason they could kill and bury a slave, with
no fear of arrest or reprisal. Husbands could even have their wives put to death on the least provocation. Today abortion reflects the same merciless attitude. A society that despises mercy is a society that glorifies brutality.
The underlying motive of self-concern has characterized men in general and societies in general since the Fall. We see it expressed today in such sayings as, "If you don't look out for yourself, no one else will." Such popular proverbs are generally true, because they reflect the basic selfish nature of fallen man. Men are not naturally inclined to repay mercy for mercy.
The best illustration of that fact is the Lord Himself. Jesus Christ was the most merciful human being who ever lived. He reached out to heal the sick, restore the crippled, give sight to the blind, hearing to the deaf, and even life to the dead. He found prostitutes, tax collectors, the debauched and the drunken, and drew them into His circle of love and forgiveness. When the scribes and Pharisees brought the adulteress to Him to see if He would agree to her stoning, He confronted them with their merciless hypocrisy: "He who is without sin among you, let him be the first to throw a stone at her." When no one stepped forward to condemn her, Jesus said to her, "Neither do I condemn you; go your way. From now on sin no more" (John 8:7-11). Jesus wept with the sorrowing and gave companionship to the lonely. He took little children into His arms and blessed them. He was merciful to everyone. He was mercy incarnate, just as He was love incarnate.
Yet what was the response to Jesus' mercy? He shamed the woman's accusers into inaction, but they did not become merciful. By the time the accounts of John 8 ended, Jesus' opponents "picked up stones to throw at Him" (v. 59). When the scribes and Pharisees saw Jesus "eating with the sinners and tax-gatherers," they asked His disciples why their Master associated with such unworthy people (Mark 2:16).
The more Jesus showed mercy, the more He showed up the unmercifulness of the Jewish religious leaders. The more He showed mercy, the more they were determined to put Him out of the way. The ultimate outcome of His mercy was the cross. In Jesus' crucifixion, two merciless systems—merciless government and merciless religion—united to kill Him. Totalitarian Rome joined intolerant Judaism to destroy the Prince of mercy.
The fifth beatitude does not teach that mercy to men brings mercy from men, but that mercy to men brings mercy from God. If we are merciful to others, God will be merciful to us, whether men are or not. God is the subject of the second clause, just as in the other beatitudes. It is God who gives the kingdom of heaven to the poor in spirit, comfort to those who mourn, the earth to the meek, and satisfaction to those who hunger and thirst for righteousness. Those who are merciful… shall receive mercy from God. God gives the divine blessings to those who obey His divine standards.
Merciful comes from a word from which we also get eleemosynary, meaning beneficial or charitable. Hebrews 2:17 speaks of Jesus as our "merciful and faithful high priest." Christ is the supreme example of mercy and the supreme dispenser of mercy. It is from Jesus Christ that both redeeming and sustaining mercy come.
In the Septuagint (the Greek Old Testament) the same term is used to translate the Hebrew hÖesed, one of the most commonly used words to describe God's character. It is usually translated as mercy, love, lovingkindness, or steadfast love (Ps. 17:7; 51:1; Isa. 63:7; Jer. 9:24; etc.). The basic meaning is to give help to the afflicted and to rescue the helpless. It is compassion in action.
Jesus is not speaking of detached or powerless sentiment that is unwilling or unable to help those for whom there is sympathy. Nor is He speaking of the false mercy, the feigned pity, that gives help only to salve a guilty conscience or to impress others with its appearance of virtue. And it is not passive, silent concern which, though genuine, is unable to give tangible help. It is genuine compassion expressed in genuine help, selfless concern expressed in selfless deeds.
Jesus says in effect, "The people in My kingdom are not takers but givers, not pretending helpers but practical helpers. They are not condemners but mercy givers." The selfish, self-satisfied, and self-righteous do not bother to help anyone—unless they think something is in it for them. Sometimes they even justify their lack of love and mercy under the guise of religious duty. Once when the Pharisees and scribes questioned why His disciples did not observe the traditions of the elders, Jesus replied, "Moses said, 'Honor your father and your mother'; and 'He who speaks evil of father or mother, let him be put to death'; but you say, 'If a man says to his father or his mother, anything of mine you might have been helped by is Corban (that is to say, given to God),' you no longer permit him to do anything for his father or his mother; thus invalidating the word of God by your tradition which you have handed down" (Mark 7:10-13). In the name of hypocritical religious tradition, compassion toward parents in such a case was actually forbidden.
Mercy is meeting people's needs. It is not simply feeling compassion but showing compassion, not only sympathizing but giving a helping hand. Mercy is giving food to the hungry, comfort to the bereaved, love to the rejected, forgiveness to the offender, companionship to the lonely. It is therefore one of the loveliest and noblest of all virtues.
The Source of Mercy
Pure mercy is a gift of God. It is not a natural attribute of man but is a gift that comes with the new birth. We can be merciful in its full sense and with a righteous motive only when we have experienced God's mercy. Mercy is only for those who through grace and divine power have met the requirements of the first four beatitudes. It is only for those who by the work of the Holy Spirit bow humbly before God in poverty of spirit, who mourn over and turn from their sin, who are meek and submissive to His control, and who hunger and thirst above all else for His righteousness. The way of mercy is the way of humility, repentance, surrender, and holiness.
Balaam continually prostituted his ministry; trying to keep within the letter of God's will while conspiring with a pagan king against God's people. He presumptuously prayed, "Let me die the death of the upright, and let my end be like his!" (Num. 23:10). As one Puritan commentator observed, Balaam wanted to die like the righteous, but he did not want to live like the righteous. Many people want God's mercy but not on God's terms.
God has both absolute and relative attributes. His absolute attributes—such as love, truth, and holiness—have characterized Him from all eternity. They were characteristic of Him before He created angels, or the world, or man. But His relative attributes—such as mercy, justice, and grace—were not expressed until His creatures came into being. In fact they were not manifest until man, the creature made in His own image, sinned and became separated from his Creator. Apart from sin and evil, mercy, justice, and grace have no meaning.
When man fell, God's love was extended to His fallen creatures in mercy. And only when they receive His mercy can they reflect His mercy. God is the source of mercy. "For as high as the heavens are above the earth, so great is His lovingkindness [mercy] toward those who fear Him" (Ps. 103:11). It is because we have the resource of God's mercy that Jesus commanded, "Be merciful, just as your Father is merciful" (Luke 6:36).
Donald Barnhouse writes, When Jesus Christ died on the cross, all the work of God for man's salvation passed out of the realm of prophecy and became historical fact. God has now had mercy upon us. For anyone to pray, "God have mercy on me" is the equivalent of asking Him to repeat the sacrifice of Christ. All the mercy that God ever will have on man He has already had, when Christ died. That is the totality of mercy. There could not be any more…. The fountain is now opened, and it is flowing, and it continues to flow freely. (Romans [Grand Rapids: Eerdmans, 1983], 4:4)
We cannot have the blessing apart from the Blesser. We cannot even meet the condition apart from the One who has set the condition. We are blessed by God when we are merciful to others, and we are able to be merciful to others because we have already received salvation's mercy. And when we share the mercy received, we shall receive mercy even beyond what we already have.
We never sing more truthfully than when we sing, "Mercy there was great and grace was free; pardon there was multiplied to me; there my burdened soul found liberty, at Calvary."
The Practice of Mercy
The most obvious way we can show mercy is through physical acts, as did the good Samaritan. As Jesus specifically commands, we are to feed the hungry, clothe the naked, visit the sick and imprisoned, and give any other practical help that is needed. In serving others in need, we demonstrate a heart of mercy.
It is helpful to note that the way of mercy did not begin with the New Testament. God has always intended for mercy to characterize His people. The Old Testament law taught, "You shall not harden your heart, nor close your hand from your poor brother; but you shall freely open your hand to him, and shall generously lend him sufficient for his need in whatever he lacks" (Deut. 15:7-8). Even in the year of release, when all debts were canceled, Israelites were to give their poor countrymen whatever they needed. They were warned, "Beware, lest there is a base thought in your heart, saying 'The seventh year, the year of remission, is near,' and your eye is hostile toward your poor brother, and you give him nothing" (v. 9).
Mercy is also to be shown in our attitudes. Mercy does not hold a grudge, harbor resentment, capitalize on another's failure or weakness, or publicize another's sin. On a great table at which he fed countless hundreds of people, Augustine inscribed, Whoever thinks that he is able,To nibble at the life of absent friends,
The vindictive, heartless, indifferent are not subjects of Christ's kingdom. When they pass need by on the other side, as the priest and the Levite did in the story of the good Samaritan, they show they have passed Christ by.
Mercy is also to be shown spiritually. First, it is shown through pity. Augustine said, "If I weep for the body from which the soul is departed, should I not weep for the soul from which God is departed?" The sensitive Christian will grieve more for lost souls than for lost bodies. Because we have experienced God's mercy, we are to have great concern for those who have not.
Jesus' last words from the cross were words of mercy. For His executioners He prayed, "Father, forgive them; for they do not know what they are doing" (Luke 23:34). To the penitent thief hanging beside Him He said, "Truly I say to you, today you shall be with Me in Paradise" (v. 43). To His mother He said, '"Woman, behold your son! ' Then He said to the disciple [John], 'Behold, your mother! ' And from that hour the disciple took her into his own household" (John 19:26-27). Like his Master, Stephen prayed for those who were taking his life, "Lord, do not hold this sin against them!" (Acts 7:60).
Second, we are to show spiritual mercy by confrontation. Paul says that, as Christ's servants, we should gently correct "those who are in opposition, if perhaps God may grant them repentance leading to the knowledge of the truth" (2 Tim. 2:25). We are to be willing to confront others about their sin in order that they might come to God for salvation. When certain teachers were "upsetting whole families, teaching things they should not teach, for the sake of sordid gain," Paul told Titus to "reprove them severely that they may be sound in the faith" (Titus 1:11, 13). Love and mercy will be severe when that is necessary for the sake of an erring brother and for the sake of Christ's church. In such cases it is cruel to say nothing and let the harm continue.
As Jude closed his letter with the encouragement to "keep yourselves in the love of God, waiting anxiously for the mercy of our Lord Jesus Christ to eternal life," he also admonished, "And have mercy on some, who are doubting; save others, snatching them out of the fire; and on some have mercy with fear, hating even the garment polluted by the flesh" (Jude 21-23). Extreme situations require extreme care, but we are to show mercy even to those trapped in the worst systems of apostasy
Third, we are to show spiritual mercy by praying. The sacrifice of prayer for those without God is an act of mercy. Our mercy can be measured by our prayer for the unsaved and for Christians who are walking in disobedience.
Fourth, we are to show spiritual mercy by proclaiming the saving gospel of Jesus Christ—the most merciful thing we can do.
The Result of Mercy
Reflecting on the fact that when we are merciful we receive mercy, we see God's cycle of mercy. God is merciful to us by saving us through Christ; in obedience we are merciful to others; and God in faithfulness gives us even more mercy, pouring out blessing for our needs and withholding severe chastening for our sin.
As in the other beatitudes, the emphatic pronoun autos (they) indicates that only those who are merciful qualify to receive mercy David sang of the Lord, "With the kind Thou dost show Thyself kind" (2 Sam. 22:26). Speaking of the opposite side of the same truth, James says, "For judgment will be merciless to one who has shown no mercy" (James 2:13). At the end of the disciples' prayer Jesus explained, "For if you forgive men for their transgressions, your heavenly Father will also forgive you. But if you do not forgive men, then your Father will not forgive your transgressions" (Matt. 6:14-15). Again the emphatic truth is that God will respond with chastening for an unforgiving disciple.
Neither in that passage nor in this beatitude is Jesus speaking of our mercy gaining us salvation. We do not earn salvation by being merciful. We must be saved by God's mercy before we can truly be merciful. We cannot work our way into heaven even by a lifetime of merciful deeds, any more than by good works of any sort. God does not give mercy for merit; He gives mercy in grace, because it is needed, not because it is earned.
To illustrate the working of God's mercy Jesus told the parable of a slave who had been graciously forgiven a great debt by the king. The man then went to a fellow slave who owed him a pittance by comparison and demanded that every cent be repaid and had him thrown into prison. When the king heard of the incident, he called the first man to him and said, '"You wicked slave, I forgave you all that debt because you entreated me. Should you not also have had mercy on your fellow slave, even as I had mercy on you?' And his lord, moved with anger, handed him over to the torturers until he should repay all that was owed him. So shall My heavenly Father also do to you, if each of you does not forgive his brother from your heart" (Matt. 18:23-35).
In that parable Jesus gives a picture of God's saving mercy in relation to forgiving others (vv. 21-22). The first man pleaded with God for mercy and received it. The fact that he, in turn, was unmerciful was so inconsistent with his own salvation that he was chastened until he repented. The Lord will chasten, if need be, to produce repentance in a stubborn child. Mercy to others is a mark of salvation. When we do not show it, we may be disciplined until we do. When we hold back mercy, God restricts His flow of mercy to us, and we forfeit blessing. The presence of chastening and the absence of blessing attend an unmerciful believer.
If we have received from a holy God unlimited mercy that cancels our unpayable debt of sin—we who had no righteousness but were poor in spirit, mourning over our load of sin in beggarly, helpless condition, wretched and
doomed, meek before almighty God, hungry and thirsty for a righteousness we did not have and could not attain—it surely follows that we should be merciful to others.
Even as it stands this is surely a great saying; and it is the statement of a principle which runs all through the New Testament. The New Testament is insistent that to be forgiven we must be forgiving. As James had it: "For judgment is without mercy to one who has shown no mercy" (James 2:13). Jesus finishes the story of the unforgiving debtor with the warning: "So also my heavenly Father will do to everyone of you; if you do not forgive your brother from your heart" (Matthew 18:35). The Lord's Prayer is followed by the two verses which explain and underline the petition, "Forgive us our debts as we also have forgiven our debtors". "For if you forgive men their trespasses, your heavenly Father also will forgive you. But if you do not forgive men their trespasses, neither will your Father forgive your trespasses" (Matthew 6:12,14,15). It is the consistent teaching of the New Testament that indeed only the merciful shall receive mercy.
But there is even more to this beatitude than that. The Greek word for merciful is eleemon. But, as we have repeatedly seen, the Greek of the New Testament as we possess it goes back to an original Hebrew and Aramaic. The Hebrew word for mercy is chesedh; and it is an untranslatable word. It does not mean only to sympathize with a person in the popular sense of the term; it does not mean simply to feel sorry for someone in trouble. Chesedh, mercy, means the ability to get right inside the other person's skin until we can see things with his eyes, think things with his mind, and feel things with his feelings.
Clearly this is much more than an emotional wave of pity; clearly this demands a quite deliberate effort of the mind and of the will. It denotes a sympathy which is not given, as it were, from outside, but which comes from a deliberate identification with the other person, until we see things as he sees them, and feel things as he feels them. This is sympathy in the literal sense of the word. Sympathy is derived from two Greek words, syn which means together with, and paschein which means to experience or to suffer. Sympathy means experiencing things together with the other person, literally going through what he is going through.
This is precisely what many people do not even try to do. Most people are so concerned with their own feelings that they are not much concerned with the feelings of anyone else. When they are sorry for someone, it is, as it were, from the outside; they do not make the deliberate effort to get inside the other person's mind and heart, until they see and feel things as he sees and feels them.
If we did make this deliberate attempt, and if we did achieve this identification with the other person, it would obviously make a very great difference.
(i) It would save us from being kind in the wrong way. There is one outstanding example of insensitive and mistaken kindness in the New Testament. It is in the story of Jesus' visit to the house of Martha and Mary at Bethany (Luke 10:38-42). When Jesus paid that visit, the Cross was only a few days ahead. All that he wanted was an opportunity for so short a time to rest and to relax, and to lay down the terrible tension of living.
Martha loved Jesus; he was her most honored guest; and because she loved him she would provide the best meal the house could supply. She bustled and scurried here and there with the clatter of dishes and the clash of pans; and every moment was torture to the tense nerves of Jesus. All he wanted was quiet.
Martha meant to be kind, but she could hardly have been more cruel. But Mary understood that Jesus wished only for peace. So often when we wish to be kind the kindness has to be given in our way, and the other person has to put up with it whether he likes it or not. Our kindness would be doubly kind, and would be saved from much quite unintentional unkindness, if we would only make the effort to get inside the other person.
(ii) It would make forgiveness, and it would make tolerance ever so much easier. There is one principle in life which we often forget—there is always a reason why a person thinks and acts as he does, and if we knew that reason, it would be so much easier to understand and to sympathize and to forgive. If a person thinks, as we see it, mistakenly ,he may have come through experiences, he may have a heritage which has made him think as he does. If a person is irritable and discourteous, he may be worried or he may be in pain. If a person treats us badly, it may be because there is some idea in his mind which is quite mistaken.
Truly, as the French proverb has it, "To know all is to forgive all," but we will never know all until we make the deliberate attempt to get inside the other person's mind and heart.
(iii) In the last analysis, is not that what God did in Jesus Christ? In Jesus Christ, in the most literal sense, God got inside the skin of men. He came as a man; he came seeing things with men's eyes, feeling things with men's feelings, thinking things with men's minds. God knows what life is like, because God came right inside life.
It is only those who show this mercy who will receive it. This is true on the human side, for it is the great truth of life that in other people we see the reflection of ourselves. If we are detached and disinterested in them, they will be detached and disinterested in us. If they see that we care, their hearts will respond in caring. It is supremely true on the divine side, for he who shows this mercy has become nothing less than like God.
So the translation of the fifth beatitude might read: O THE BLISS OF THE MAN WHO GETS RIGHT INSIDE OTHER PEOPLE, UNTIL HE CAN SEE WITH THEIR EYES, THINK WITH THEIR THOUGHTS, FEEL WITH THEIR FEELINGS, FOR HE WHO DOES THAT WILL FIND OTHERS DO THE SAME FOR HIM, AND WILLKNOW THAT THAT IS WHAT GOD IN JESUS CHRIST HAS DONE!
(5:7) Merciful (eleemones): to have a forgiving spirit and a compassionate heart. It is showing mercy and being benevolent. It is forgiving those who are wrong, yet it is much more. It is empathy; it is getting right inside the person and feeling right along with him. It is a deliberate effort, an act of the will to understand the person and to meet his need by forgiving and showing mercy. It is the opposite of being hard, unforgiving, and unfeeling. God forgives only those who forgive others. A person receives mercy only if he is merciful (cp. Matthew 6:12; James 2:13). Several significant facts need to be noted about mercy.
The person who is merciful has a tender heart—a heart that cares for all who have need, seen or unseen. If he sees the needful, he feels for them and reaches out to do all he can. If he does not see them, he feels and reaches out through prayer and giving as opportunity arises. The merciful just do not hoard or hold back any kind of help, no matter the cost.
They have the love of God dwelling in them.
They know that it is "more blessed to give than to receive."
Every believer can be merciful. Some may not have money or other means to help, but they can be tender and compassionate and demonstrate mercy through expression and prayer. In fact, God instructs the believer to be merciful. He charges the believer to do some very practical things:
"Deal…bread to the hungry" (Isaiah 58:7; James 2:15).
"Bring the poor that are cast out to thy house" (Isaiah 58:7).
"Cover him [the naked]" (Isaiah 58:7; James 2:15).
Strengthen and comfort the broken and grieving soul (Job 16:5).
Pity the afflicted (Job 6:14).
Bear the burdens of others—even to the point of restoring them when they sin. But we reach out to them in a spirit of meekness. (Galatians 6:2 cp. Galatians 6:1).
Support the weak (Acts 20:35).
The results of being merciful are numerous.
A person is given the mercy of God—forgiveness of sins (Psalm 18:25; cp. 2 Samuel 22:26).
A person does good to his own soul (Proverbs 19:17).
A person is paid back what he gives—by God Himself (Proverbs 19:17).
A person behaves like God Himself (Luke 6:36; cp. Psalm 103:8; Joel 2:15).
A person is blessed (Psalm 51:1).
A person is assured of finding "mercy in that day" (2 Tim. 1:18).
A person shall inherit the Kingdom of God—forever (Matthew 25:34-35).
The unmerciful are warned by God.
They shall face "judgment without mercy" (James 2:13).
They shall face the anger and wrath of God (Matthew 18:34-35).
They are not forgiven their sins (Matthew 6:12, 14-15).
Two opposite attitudes are shown toward mercy.
The attitude of shutting up one's compassion from those in need (1 John 3:17; cp. James 2:15-16).
The attitude of putting on a heart of mercy (Col. 3:12).