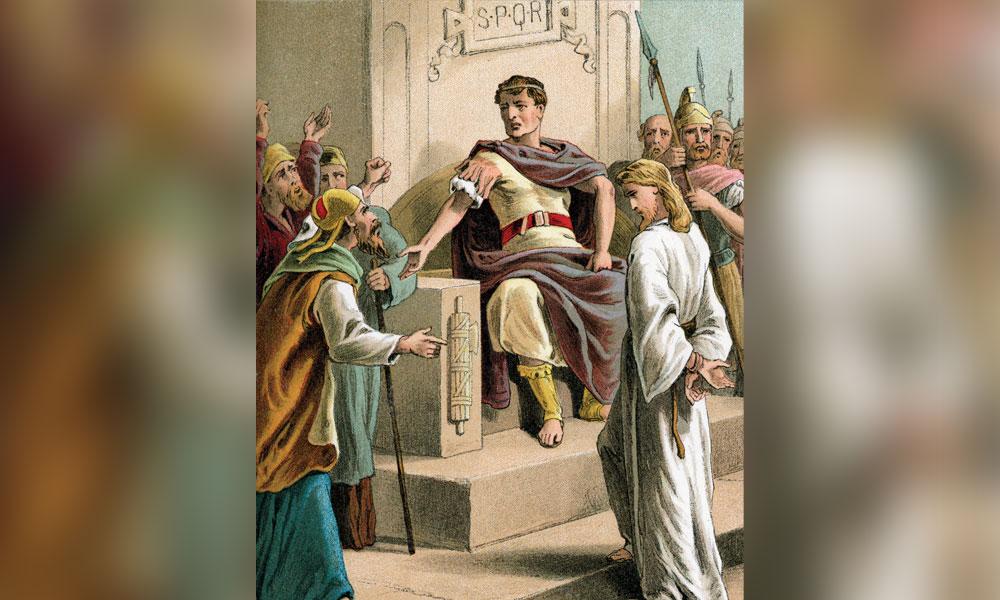 A closer look at the two Roman officials who found no sin in Jesus at the cross (Pilate and Herod)
 The Cross Does Interfere
Things have come to a pretty pass," said a famous Englishman testily, "when religion is permitted to interfere with our private lives."
To which we may reply that things have come to a worse pass when an intelligent man living in a Protestant country could make such a remark. Had this man never read the New Testament? Had he never heard of Stephen? or Paul? or Peter? Had he never thought about the millions who followed Christ cheerfully to violent death, sudden or lingering, because they did allow their religion to interfere with their private lives?
But we must leave this man to his conscience and his Judge and look into our own hearts. Maybe he but expressed openly what some of us feel secretly. Just how radically has our religion interfered with the neat pattern of our own lives? Perhaps we had better answer that question first.
I have long believed that a man who spurns the Christian faith outright is more respected before God and the heavenly powers than the man who pretends to religion but refuses to come under its total domination. The first is an overt enemy, the second a false friend. It is the latter who will be spewed out of the mouth of Christ; and the reason is not hard to understand.
One picture of a Christian is a man carrying a cross. "If any man will come after me, let him deny himself, and take up his cross daily, and follow me" (Luke 9:23). The man with a cross no longer controls his destiny; he lost control when he picked up his cross. That cross immediately became to him an all-absorbing interest, an overwhelming interference. No matter what he may desire to do, there is but one thing he can do; that is, move on toward the place of crucifixion.
The man who will not tolerate interference is under no compulsion to follow Christ. "If anyone would," said our Lord, and thus freed every man and placed the Christian life in the realm of voluntary choice.
Yet no man can escape interference. Law, duty, hunger, accident, natural disasters, illness, death, all intrude into his plans, and in the long run there is nothing he can do about it. Long experience with the rude necessities of life has taught men that these interferences will be thrust upon them sooner or later, so they learn to make what terms they can with the inevitable. They learn how to stay within the narrow circular rabbit path where the least interference is to be found. The bolder ones may challenge the world, enlarge the circle somewhat and so increase the number of their problems, but no one invites trouble deliberately. Human nature is not built that way.
Truth is a glorious but hard mistress. She never consults, bargains or compromises. She cries from the top of the high places: "Receive my instruction, and not silver; and knowledge rather than choice gold" (Proverbs 8:10). After that, every man is on his own. He may accept or refuse, receive or set at naught as he pleases; and there will be no attempt at coercion, though the man's whole destiny is at stake.
Let a man become enamored of eternal wisdom and set his heart to win her and he takes on himself a full-time, all-engaging pursuit. Thereafter he will have room for little else. Thereafter his whole life will be filled with seekings and findings, self-repudiations, tough disciplines and daily dyings as he is being crucified unto the world and the world unto him.
Were this an unfallen world the path of truth would be a smooth and easy one. Had the nature of man not suffered a huge moral dislocation there would be no discord between the way of God and the way of man. I assume that in heaven the angels live through a thousand serene millenniums without feeling the slightest discord between their desires and the will of God. But not so among men on earth. Here the natural man receives not the things of the Spirit of God; the flesh lusts against the Spirit and the Spirit against the flesh, and these are contrary one to the other. In that contest there can be only one outcome. We must surrender and God must have His way. His glory and our eternal welfare require that it be so.
Another reason that our religion must interfere with our private lives is that we live in the world, the Bible name for human society. The regenerated man has been inwardly separated from society as Israel was separated from Egypt at the crossing of the Red Sea. The Christian is a man of heaven temporarily living on earth. Though in spirit divided from the race of fallen men he must yet in the flesh live among them. In many things he is like them, but in others he differs so radically from them that they cannot but see and resent it. From the days of Cain and Abel the man of earth has punished the man of heaven for being different. The long history of persecution and martyrdom confirms this.
But we must not get the impression that the Christian life is one continuous conflict, one unbroken irritating struggle against the world, the flesh and the devil. A thousand times no. The heart that learns to die with Christ soon knows the blessed experience of rising with Him, and all the world's persecutions cannot still the high note of holy joy that springs up in the soul that has become the dwelling place of the Holy Spirit.
In 4 B.C. Herod the Great, king of Palestine for almost 44 years, died and left his territory to his three sons – Philip, Archelaus, and Herod Antipas.  To Philip were given the territories northeast of the Sea of Galilee.  To Archelaus were given the territories of Samaria, Judea, and the northern part of Idumea.  To Herod Antipas were given the territories of Galilee and Persia east of the Jordan.
In 6 A.D., Archelaus was deposed of his territories because of his incapability.  Rather than replace him with a suitable ruler from the Jews, the Romans decided to place Judea under direct control of Roman governors, who became known as procurators.  From 26-36 A.D., this post was held by Pontius Pilate.
The idea of Roman control was a constant irritant to the Jews.  Because of this, the Jews made sure they were also a constant irritant to the Romans.  Some Jews hated the Romans so much that they organized themselves into a subversive political party known as "Zealots" whose sole purpose became the advocation of the overthrow of the Roman government.  In an effort to appease the Jews in Jerusalem, the procurators of Judea moved their headquarters from Jerusalem to Caesarea, on the Mediterranean coast.
However, they left occupation troops in the city, and whenever large crowds of Jews were expected to assemble in Jerusalem for a religious holiday, the procurators usually made sure they were in the city to help maintain peace and order if it was needed. While there, they always stayed at the palace of Herod the Great.  This is why Pilate was in the city of Jerusalem before the annual passover feast at the time of Jesus1 arrest.
At this time in Jewish history, the Sanhedrin council's jurisdiction had been reduced to the point that it really had very little authority over anything that was not strictly religious, and all its decisions had to be reported to the Roman government.  For this reason, the council had to get the procurator of Judea, Pontius Pilate, to confirm the sentence of death on Jesus before he could be executed.
When the Jews brought Jesus before Pilate for this confirmation, upon learning that Jesus had been in Galilee preaching (and therefore subject to Herod Antipas), Pilate attempted to avoid confirming Jesus' sentence by sending Jesus to Herod, who also happened to be in the city because of the Passover feast. However, Herod spoiled Pilate's plan by sending Jesus back to Pilate to make him pronounce the confirmation on Jesus' death.
What type of men were these Roman officials who held Jesus' life in their hands?  Could they be expected to use good judgment in their decisions concerning Jesus' guilt or innocence?  How easily could they be influenced by their Jewish subjects?  In this lesson we will take a closer look at these two Roman officials involved in Jesus' crucifixion.
Herod Antipas
Herod Antipas was the son of Herod the Great by his Samaritan wife, Matthaec (Maithace).  He was a Sadducee and as such denied a moral government and a future state.  Sadducees were distinguished for their ferocity and inhumanity in their judicial capacity.  Herod Antipas had a historical profile that was far from commendable.  He was superstitious, inquisitive about truth without loving it, crafty, incestuous and wholly immoral, and foxlike in his cunning (Luke 13:32).
John the Baptist, who openly rebuked Herod Antipas for his gross immorality and defiance of the Mosaic law, paid for his courage with his life (Matthew 14:1,10; Luke 13:31; Leviticus 18:16).  To Herod's credit, he was a subtle diplomat and an astute manager of difficult situations.
When Jesus was brought to Herod Antipas at Pilate's direction (Luke 23:6-7), Herod was very glad to see Jesus (Luke 23:8).  In fact, Herod had long desired to see him (Luke 23:8).  This may have been because of Herod's steward, Chuza.  His wife, Joanna, was a long-time follower and supporter of the ministry of Jesus (Luke 8:3).  It could have been through Chuza that Herod learned about Jesus' ministry.  [It is also interesting to note that in later years, Manaen, a member of Herod's court, became a member of the church at Antioch (Acts 13:1)).  However, Herod was confused about who Jesus may have been.  He at first thought Jesus might have been John the Baptist, raised from the dead (Matthew 14:1-2; Mark 6:14-16; Luke 9:7-9).  But the real reason Herod longed to see Jesus was not to learn of his ministry, but to see if some sign would be done by Jesus in his presence (Luke 23:8).
Herod questioned Jesus at some length, but Jesus made no answer (Luke 23:9).  As the chief priests and scribes stood near by, Herod and his soldiers treated Jesus with contempt and mocked him (Luke 23:10-11).  Herod then had Jesus arrayed in gorgeous apparel and sent him back to Pilate (Luke 23:11) without finding Jesus guilty of any crime.
Pontius Pilate
Pontius Pilate was the 5th procurator or governmental representative of imperial Rome in Palestine.  He reigned from 26-36 A.D.  Pontius, his famtly name, meant "belonging to the sea"; Pilate, taken from a Latin word, meant 11one armed with a javelin". He was hated by the Jews and Samaritans for his covetous and cruel government and actions.  History tells us that he was recalled from his office by the emperor Tiberius and banished to Vienna in Gaul by Caligua, where he took his own life by drowning in 41 A.D.
Pilate's first encounter with Jesus:
Jesus is brought before Pilate by the Jewish leaders on the morning of Jesus' crucifixion (Matthew 27:1-2; Mark 15:1; Luke 23:1; John 18:28) Pilate asks the leaders, "What accusation do you bring against this man?"  (John 18:29)
The Jewish leaders tell Pilate, "If this man were not an evildoer we would not have handed him over."  (John 18:30)
The Jewish leaders accuse Jesus saying, "We found this man perverting our nation, and forbidding us to give tribute to Caesar, and saying that he himself is Christ a king." (Luke 23:2)
Pilate tells the leaders, "Take him yourselves and judge him by your own law."  (John 18:31)
The Jewish leaders respond, "It is not lawful for us to put any man to death."  (John 18:31)
The chief priests and elders accuse Jesus, but Jesus makes no answer to them.  Pilate asks Jesus, "Have you no answer to make?  Do you not hear (see) how many things they testify (bring) against you?"  (Matthew 27:13; Mark 15:4)
Jesus gives Pilate no answer.  Pilate wonders greatly. (Matthew 27:14; Mark 15:5)
Pilate questions Jesus, "Are you the King of the Jews?" (Matthew 27:11; Mark 15:2;Luke 23:3; John 18:33)
Jesus asks Pilate, "Do you say this of your own accord, or did others say It to you about me?"  (John 18:34)
Pilate answers Jesus, "Am I a Jew?  Your own nation and the chief priests have handed you over to me; what have you done?" (John 18:35)
Jesus answers Pilate, "My kingship Is not of this world; if my kingship were of this world, my servants would fight; that I might not be handed over to the Jews; but my kingship is not from the world."  (John 18:36)
Pilate asks Jesus, "So you are a king?"  (John 18:37)
Jesus answers Pilate, "You have said so." "You say that I am a king.  For this I was born, and for this I have come into the world, to bear witness to the truth.  Every one who is of the truth hears my voice." (Matthew 27:11; Mark 15:2; Luke 23:3; John 18:37)
Pilate asks Jesus, "What is truth?"  (John 18:38) Pilate tells the chief priests and multitudes, "I find no crime
In this man."  (Luke 23:4; John 18:38)
The chief priests tell Pilate, "He stirs up the people, teaching throughout Judea, from Galilee even to this place." (Luke 23:5)
In an effort to shirk the responsibility of sentencing Jesus to death  Pilate, upon hearing that Jesus had taught in Galilee, sends Jesus to Herod (Galilee was Herod's territory) to let him deal with the Jews.  However, Herod spoils Pilate's plan and returns Jesus to Pilate to make him pronounce the final decision on Jesus.
Pilate's second encounter with Jesus:
Pilate calls together the chief priests, rulers, and the people and says, "You brought me this man as one who was perverting the people; and after examining him before you, behold I did not find this man guilty of any of your charges against him; neither did Herod, for he sent him back to us.  Behold, nothing deserving death has been done by him; I will therefore chastise him and release him."  (Luke 23:13-17)
The crowd at the feast comes up to Pilate and asks him to do what he was wont to do for them.  (Mark 15:8) Pilate addresses the crowd at the feast, "I find no crime in him. Whom do you want me to release for you, Barabbas or Jesus who is called Christ?" (Matthew 27:16; Mark 15:9; Luke 23:18; John 16:39)
Pilate knew it was out of envy that they (Jews) had delivered him (Jesus) up.  (Matthew 27:18; Mark 15:10) Pilate's wife sends word to Pilate, "Have nothing to do with that righteous man, for I have suffered much over him today in a dream."  (Matthew 27:19)
The crowd said to Pilate, "Away with this man, and release to us Barabbas11  (Luke 23:18; John 18:40)
Desiring to release Jesus, Pilate again addresses the crowd, "Behold, I am bringing him out to you, that you may know that I find no crime in him.  Which of the two do you want me to release for you?" (Matthew 27:21; Luke 23:20; John 19:4)
After the crowd demands Barabbas, Pilate asks them, "Then what shall I do with Jesus who is called Christ?" (Matthew 27:22; Mark 15:12)
After the crowd demands Jesus be crucified, Pilate asks them,
Why, what evil has he done?  I have found in him no crime deserving death; I will therefore chastise him and release him." (Matthew 27:23; Mark 15:14; Luke 23:22)
Pilate tells the crowd, "Take him yourselves and crucify him, for I find no crime in him."  (John 19:6)
The Jews answer Pilate, "We have a law, and by that law he ought to die, because he has made himself the Son of God." (John 19:7)
Pilate asks Jesus, "Where are you from?" but Jesus makes no answer.  Pilate then says, "Will you not speak to me?  Do you not know that I have the power to release you, and power to crucify you?"  (John 19:9-10)
Jesus answers Pilate, "You would have no power over me unless it had been given you from above; therefore he who delivered me to you has the greater sin."  (John 19:11)
After the crowd demands again that Jesus be crucified, Pilate saw that he was gaining nothing and a riot was beginning.  He took water and washed his hands before the crowd, saying, .1 am Innocent of this man's blood; see to it yourselves." (Matthew 27:24; John 19:12)
The crowd answers, "1f you release this man, you are not Caesars' friend; every one who makes himself a king sets himself against Caesar."  (John 19:12)
Pilate says to the Jews, "Here is your King!"  (John 19:14)
The crowd answers,  "Away with him, away with him, crucify him!" (John 19:15)
Pilate asks the crowd, "Shall I crucify your King?" (John 19:15)
The chief priests answer, "We have no king but Caesar!" (John 19:15)
Pilate has Jesus scourged and releases him to be crucified. (Matthew 27:26; Hark 15:15; Luke 23:25; John 19:16)
Pilate wrote a title and put it on the cross.  It read "Jesus of Nazareth, the King of the Jews."
(Matthew 27:37; Mark 15:26; John 19:19-22)
Conclusion of Lesson
Two men stood in the way of the Jews sending Jesus to his death – Herod and Pilate.  When confronted by the angry multitude of Jews who brought Jesus to them, both Herod and Pilate found no wrongdoing in Jesus, but allowed him to be crucified because of their fear of the Jews.
Today, we as Christians also allow Jesus to be crucified anew in the world we live in.  Because of our own fears, we often let others be critical of Jesus, the church  members of the church, God's word, ministers and missionaries of the gospel, and our brothers and sisters Christ.
We do this by not speaking up and taking a stand when others speak evil of God's workers on the earth now.  Are we any better than Herod or Pilate in this regard?  No, the truth is we are just as guilty as both these men were because of our fears also.  Christians have been the "silent majority" for too long.
ADDITIONAL THOUGHTS
23:11-12 Now Herod and his soldiers began mocking and ridiculing Jesus. Then they put a royal robe on him and sent him back to Pilate. Herod and Pilate, who had been enemies before, became friends that day.NLT With this prisoner refusing to answer, and looking very little like a great miracle worker, Herod and his soldiers began mocking and ridiculing Jesus. Angry at Jesus' refusal to even answer questions for him, Herod resorted to making a mockery of this man who was supposedly such a great prophet, teacher, and miracle worker. To make fun of Jesus' claim to be a king (probably Pilate had sent along this information when he sent Jesus to Herod), Herod put a royal robe on him, probably a purple color with fine workmanship. Herod did not even take the charge seriously. So he neither released the prisoner nor made a judgment about his guilt. He simply sent him back to Pilate.
Herod and Pilate had a rather tenuous relationship. Herod was the part-Jewish ruler of Galilee and Perea. Pilate was the Roman governor of Judea and Samaria. Those four provinces, together with several others, had been united under Herod the Great. But when Herod the Great died in 4 b.c., the kingdom was divided among his sons, each of whom was called "tetrarch" (meaning "ruler of a fourth part of a region"). Archelaus, the son who had received Judea and Samaria, was removed from office within ten years, and his provinces were then ruled by a succession of Roman governors, of whom Pilate was the fifth.
Herod Antipas had two advantages over Pilate: he had come from a part-Jewish monarchy, and he had held his position much longer. But Pilate had two advantages over Herod: he was a Roman citizen and an envoy of the emperor, and his position was created to replace that of Herod's ineffective half brother. It is not surprising that the two men were uneasy around each other. Jesus' trial, however, brought them together. Because Pilate had recognized Herod's authority over Galilee, Herod had stopped feeling threatened by the Roman politician. And because neither man knew what to do in this predicament, their common problem united them.
PILATE HANDS JESUS OVER TO BE CRUCIFIED / 23:13-25 / 232
According to the Roman custom of releasing a criminal during the Passover season, Pilate presented Jesus to the people. Pilate did not want to bear the responsibility of putting an innocent man to death. But the crowd insisted on Barabbas's freedom, the release of a known murderer. That Jesus literally died in Barabbas's place vividly illustrates the ultimate significance of Jesus' death. He took the place of not only Barabbas but also all who stand condemned before God's perfect standard and trust in Christ for salvation.
23:13-14 Pilate then called together the chief priests, the leaders, and the people, and said to them, "You brought me this man as one who was perverting the people; and here I have examined him in your presence and have not found this man guilty of any of your charges against him."NRSV Pilate thought he had gotten rid of his problem, only to have Jesus sent back. The decision still rested on his shoulders. So he attempted to let this innocent man go by telling Jesus' accusers that he had examined him and not found this man guilty of any of their charges—including subversion, refusal to pay taxes, causing riots, or perverting the people. He didn't even find Jesus guilty of being the king he claimed to be. Pilate may have incorrectly thought that Jesus was just a poor, deluded man; he did know, however, that Jesus was innocent.
DO WHAT'S RIGHT
When the stakes are high, it is difficult to stand up for what is right, and it is easy to see opponents as problems to be solved rather than as people to be respected. Had Pilate been a man of real courage, he would have released Jesus regardless of the consequences. But the crowd roared, and Pilate buckled. People are like Pilate when they know what is right but decide not to do it. When you have a difficult decision to make, don't discount the effects of peer pressure. Realize beforehand that the right decision could have unpleasant consequences: social rejection, career derailment, public ridicule. Then think of Pilate and resolve to stand up for what is right no matter what other people pressure you to do.
23:15 "Herod came to the same conclusion and sent him back to us. Nothing this man has done calls for the death penalty."NLT Pilate could back up his decision with Herod's conclusion about Jesus. Herod had mocked Jesus but apparently had sent back word to Pilate that he could find nothing worthy of the death penalty. Jesus was tried a total of six times, by both Jewish and Roman authorities, but he was never convicted of a crime. Even when condemned to execution, he had been convicted of no felony. Today, no one can find fault in Jesus. Just like Pilate, Herod, and the religious leaders, however, many still refuse to acknowledge him as Lord.
23:16 "Therefore, I will punish him and then release him."NIV The word "punish" here may not indicate the severe flogging that Jesus received after being sentenced, prior to his crucifixion (as noted in Matthew 27:26; Mark 15:15), although John 19:1 reports Jesus being flogged and then brought before the crowd. Pilate may have hoped that the flogging would appease the crowd, and they would pity the man and let him go. Pilate was planning to release Jesus, but first he would punish him—to pacify the Jews and teach the prisoner a lesson to stay out of trouble in the future.
RIDING THE FENCE
Pilate knew that Jesus had done nothing deserving punishment, and certainly not the death penalty. Even so, he didn't have the courage or the decency to release Jesus; he tried to find a middle position that would allow Jesus to live and still appease the chief priests and the Jewish rulers. He failed, and Pilate is known forever as the man who ordered the crucifixion of the Son of God. Where do you stand? Have you made up your own mind about Jesus, whether to follow him as Lord and Messiah, or to dismiss him as a misguided martyr? There is no middle ground, no way to ride the fence when it comes to Jesus. You must either embrace him as Lord or reject him as a fraud.
23:17 (For it was necessary for him to release one to them at the feast).NKJV This verse does not exist in most modern English versions because it does not appear in any of the earliest Greek manuscripts. It may have been added later, perhaps picked up from Mark 15:6 to make a smoother transition between what is recorded in verses 16 and 18. This information helps the reader understand why the Jews called for the release of a prisoner in 23:18. But the text without 23:17 reads just as well; Pilate's statement about releasing Jesus (23:16) is followed (23:18) by an immediate plea from the crowd to release Barabbas instead.
Each year at Passover, Pilate had made it a custom to release any prisoner the people requested. He may have instituted this custom to be on good terms with them as well as to help cover his many wrongful acts toward them. In any case, it became expected. So, according to the people, it was necessary for him to release a prisoner to them at the feast.
23:18-19 With one voice they cried out, "Away with this man! Release Barabbas to us!" (Barabbas had been thrown into prison for an insurrection in the city, and for murder.)NIV The suggestion that Pilate was going to release Jesus (23:16) sent the leaders into a frenzy. Pilate had wanted to release Jesus as the Passover gift (Mark 15:8-9). This had been a public announcement, so many people in the crowd cried out with one voice that Jesus must be put to death. The prisoner they wanted set free was a man named Barabbas. Oddly enough, Barabbas had been thrown into prison for an insurrection. Barabbas may have been somewhat of a hero among the Jews for his acts of rebellion against Rome, but he was on death row in a Roman prison. He was a true rebel and revolutionary and had even committed murder. The religious leaders had tried to pin this accusation on Jesus in order to have him put to death, but they chose a man who had done such acts and wanted him set free. Clearly their actions followed no logic. They merely wanted Jesus put to death and would go to any lengths to make sure it happened.
Who was Barabbas? Jewish men had names that identified them with their fathers. Simon Peter, for example, was called Simon, son of Jonah (Matthew 16:17). Barabbas is never identified by his given name, and this name, "Bar-abbas," simply means "son of 'Abba'" (or "son of daddy"). He could have been anybody's son—and that makes for interesting commentary in that he represents all sinners. Barabbas, son of an unnamed father, committed a crime. Because Jesus died in his place, this man was set free. All people too, are sinners and criminals who have broken God's holy law. Like Barabbas, they deserve to die. But Jesus has died in their place, for their sins, and, by faith, they have been set free.
THE DEBT
If you were heavily in debt—to the point where you could never pay it off on your own—and someone offered to pay your debt for you, what would you say? Or if you were sentenced to life in prison, and someone offered to serve your sentence for you, how would you respond? That is what Jesus has done for believers in his death on the cross. He has paid a debt that they could never repay; he has served a sentence that they deserved. Jesus was sentenced to death by crucifixion, a horrible form of death normally reserved for slaves and non-Roman citizens. In addition, the Old Testament taught (Deuteronomy 21:23) that anyone who died by hanging on a tree was cursed. His death atoned for our sins and fulfilled the requirements for breaking the covenant with God. How do you respond toward the one who has done all that for you? The only appropriate response is to live a life of gratitude and obedience before him.
23:20-21 Wanting to release Jesus, Pilate appealed to them again. But they kept shouting, "Crucify him! Crucify him!"NIV Pilate really wanted to release Jesus. Matthew recorded that even Pilate's wife had experienced a dream about Jesus and had urged Pilate to let Jesus go (Matthew 27:19). Pilate must have been in a tight spot, because for some reason he put himself in the position of bargaining with the crowd. He had the authority to let Jesus go and then get on with his day; instead, he appealed to them again but to no avail. They wanted Jesus to be crucified.
This was, in itself, an amazing request. Crucifixion was the Roman penalty for rebellion and abhorrent to the Jews. They thought that Jesus' crucifixion would demonstrate that his life and message had been under God's curse, for Deuteronomy 21:23 says, "Anyone who is hung on a tree is under God's curse" (niv). This is just what the Jewish religious leaders wanted. If Jesus were to be executed, it would be by crucifixion. He would die the death of a rebel and slave, not the death of the king he claimed to be. The crucifixion, from the Jewish perspective, was meant to brand Jesus as cursed by God; the crucifixion, from the Christian perspective, pictures Jesus as taking God's curse against sin upon himself and allowing his people to be set free from sin.
TAKING A STAND
What are the nonnegotiables in your life? What are those core principles and bedrock beliefs that you will not compromise or sell out no matter what? Consider this question before you are in a crisis whereby your principles and beliefs are put to the test. Pilate seems to have had no such convictions. He knew Jesus was innocent and undeserving of punishment, yet he yielded to pressure from his political enemies to sacrifice him. Like Pilate, most people are put in positions where they have to decide where they will stand. Unlike Pilate, Christians must decide to stand firm on the truth revealed to them by God. Where do you stand?
23:22 For the third time he spoke to them: "Why? What crime has this man committed? I have found in him no grounds for the death penalty. Therefore I will have him punished and then release him."NIV Pilate tried for the third time. He could not fathom why the crowd so badly wanted this man's death. Jesus had not committed any crime; there were no grounds for the death penalty. Pilate repeated what he had said in 23:16. He would have Jesus punished and then release him.
There are two reasons why Luke stressed these three attempts Pilate had made to release Jesus. First, Luke wanted to show through his Gospel the innocence of Jesus before Roman law. Luke was giving evidence to prove the acceptability of Christianity to his Gentile readers. Second, he was establishing the Jewish guilt for Jesus' death. In Acts, this is the basis of the evangelistic sermons to the Jews—you killed him; he died for you and rose again; now repent and be converted (Acts 2:36-38; 3:13-16; 13:26-41).
23:23-24 But the crowd shouted louder and louder for Jesus' death, and their voices prevailed. So Pilate sentenced Jesus to die as they demanded.NLT Pilate wanted to release Jesus, but the crowd shouted louder and louder for Jesus' death . . . so Pilate sentenced Jesus to die. No doubt Pilate did not want to risk losing his position, which may already have been shaky, by allowing a riot to occur in his province. As a career politician, he knew the importance of compromise, and he saw Jesus more as a political threat than as a human being with rights and dignity.
23:25 He released the man who had been thrown into prison for insurrection and murder, the one they asked for, and surrendered Jesus to their will.NIV Pilate did not want to give Jesus the death sentence. He thought the Jewish leaders were simply jealous men who wanted to get rid of a rival. When they threatened to report Pilate to Caesar (John 19:12), however, Pilate became frightened. Historical records indicate that Pilate had already been warned by Roman authorities about tensions in this region. The last thing he needed was a riot in Jerusalem at Passover time when the city was crowded with Jews from all over the Empire. So Pilate released Barabbas, the man who had been thrown into prison for insurrection and murder, and then surrendered Jesus to their will. One must wonder if Pilate ever questioned himself later—why he had allowed a mob to convince him to set a murderer free and execute an innocent man. Clearly Pilate was a man of little conviction and even less courage. But don't forget the responsibility of these Jewish leaders who demanded that Jesus die—Matthew recorded that they accepted the responsibility, stating that Jesus' blood could remain on them and on their children (Matthew 27:25).
Matthew's Gospel explains that Pilate took water and washed his hands in front of the crowd to symbolize his innocence in condemning Jesus (Matthew 27:24), but this act was no more than self-deception. Jesus may have been surrendered to the will of the mob, but this was still a purely Roman execution. Pilate had to command it in order for it to happen. After releasing Barabbas, Pilate did allow Jesus to be flogged (Matthew 27:26; Mark 15:15) as part of the Roman legal code that demanded flogging before a capital sentence was carried out. The Romans did it to weaken the prisoner so that he would die more quickly on the cross. Jesus had predicted that he would be flogged (18:32).
ALMOST
Almost. It's a sad word in any man's dictionary.
"Almost." It runs herd with "nearly," "next time," "if only," and "just about." It's a word that smacks of missed opportunities, aborted efforts, and fumbled chances. It's honorable mention, right field, on the bench, runnerup, and burnt cookies.
Almost. The one that got away. The sale that nearly closed. The gamble that almost paid off. Almost.
How many people do you know whose claim to fame is an almost?
"Did I ever tell you about the time I almost was selected as the Employee of the Year?"
"They say he almost made the big leagues."
"I caught a catfish that was taller than me! Well … almost."
As long as there have been people, there have been almosts. People who almost won the battle, who almost climbed the mountain, who almost found the treasure.
One of the most famous "almost's" is found in the Bible. Pilate. Yet, what he missed was far more significant than a catfish or an award.
He almost performed what would have been history's greatest act of mercy. He almost pardoned the Prince of Peace. He almost released the Son of God. He almost opted to acquit the Christ. Almost. He had the power. He had the choice. He wore the signet ring. The option to free God's Son was …. . and he did ….. al­most.
Almost. How many times do these six ugly letters find their way into despairing epitaphs?
"He almost got it together."
"She almost chose not to leave him."
"They almost tried one more time."
"We almost worked it out.
'He almost became a Christian."
What is it that makes almost such a potent word? why is there such a wide gap between "he almost" and "he did"?
In the case of Pilate, we don't have to look far to find an answer. It is Dr. Luke's acute commentary in chap­ter 23 that provides the reason. Let's tune in at verse 22: "A third time he [Pilate] said to them [the crowd], "why, what evil has he done? I have found in him no crime deserving death; I will therefore chastise him and release him." But they were urgent, de­manding with loud cries that he should be crucified. And their voices prevailed (italics mine, RSV).
You're right, Luke. Their voices prevailed. And, as a result, Pilate's pride prevailed. Pilate's fear prevailed. Pilate's power-hunger prevailed.
"Their" voices were not the only voices, you know. There were at least three others Pilate could have heard.
He could have heard the voice of Jesus. Pilate stood eye to eye with him. Five times he postponed the decision hoping to gratify the mob with policies or lashings. Yet Jesus was always sent back to him. Three times he stood eye to eye with this compelling Nazarene who had come to reveal the truth. "what is truth?" Pilate asked rhetorically (or was it honestly?). Jesus' silence was much louder than the crowd's demands. But Pilate didn't listen.
He could have heard the voice of his wife. She pleaded with him to have nothing to do with that righ­teous man for I have suffered much over him today in a dream." One has to pause and wonder about the origin of such a dream that would cause a lady of purple to call a small-town Galilean righteous. But Pilate didn't.
Or he could have heard his own voice. Surely he could see through the facade. "Ananias, Caiaphas, cut the phoney allegiance, you slobs; I know where your interests are." Surely his conscience was speaking to him. "There is nothing wrong with this man. A bit mysterious maybe, but that's no reason to string him up."
He could have heard other voices. But he didn't. He almost did. But he didn't. Satan's voices prevailed.
His voice often does prevail. Have you heard his wooings?
"0ne time won't hurt."
"She'll never know."
"Other people do much worse things."
"At least you're not being hypocritical."
His rhetoric of rationalization never ends. The father of lies croons and woos like a traveling peddler, promising the moon and delivering disaster. "Step right up. Taste my brew of pleasure and sing my song ofsensu­ality. After all, who knows about tomorrow?"
God, meanwhile, never enters a shouting match with Satan. Truth need not scream. He stands perma­nently, quietly pleading, ever present. No tricks, no side shows, no temptations, just open proof.
People's reactions vary. Some flow immediately to the peddler of poison. Others turn quickly to the Prince of Peace. Most of us, however, are caught somewhere in between, lingering on the edge of Satan's crowd yet hover­ing within earshot of the message of God.
Pilate learned the hard way that this stance of "al­most" is suicidal. The other voices will win. Their lure is too strong. Their call too compelling. And Pilate also learned that there is no darker hell than the one of remorse. Washing your hands a thousand times won't free you from the guilt of an opportunity ignored. It's one thing to for-give yourself for something you did. It is something else to try to forgive yourself for something that you might have done, but didn't.
Jesus knew that all along. For our own good, he demanded and demands absolute obedience. He never has had room for "almost" in his vocabulary. You are either with him or against him. With Jesus "nearly" has to be­come "certainly." "Sometimes" has to become '(always." "1f only" has to become "regardless." And "next time" has to become   time."
No, Jesus never had room for "almost" and he still doesn't. "Almost" may count in horseshoes and hand grenades, but with the Master, it is just as good as a "never."
From Holman Bible Dictionary
PILATE, PONTIUS (Pi' luhte, Pahn' shuhs) Roman governorof Judea remembered in history as a notorious anti-Semite and in Christian creeds as the magistrate under whom Jesus Christ "suffered" (1 Tim 6:13). The New Testament refers to him as "governor," while other sources call him "procurator" or "prefect" (an inscription found in Caesarea in 1961). Pilate came to power about A.D. 26, close to the time when two of his contemporaries, Sejanus in Rome and Flaccus in Egypt, were pursuing policies apparently aimed at the destruction of the Jewish people. Pilate's policies were much the same. His procuratorship consisted of one provocation of Jewish sensibilities after another. He broke all precedent by bringing into Jerusalem military insignia bearing the image of Caesar in flagrant defiance of Jewish law. He removed them only when the Jews offered to die at the hands of his soldiers rather than consent to such blasphemy. He brutally suppressed protest by planting armed soldiers, disguised as civilians, among the Jewish crowds. Against such a backdrop, it is not hard to understand the reference in Luke 13:1 to "The Galileans whose blood Pilate had mingled with their sacrifice (NIV)." Pilate was finally removed from office as the result of a similar outrage against Samaritan worshipers who had gathered on Mount Gerizim, their holy mountain, to view some sacred vessels which they believed Moses had buried there. When the Samaritans complained to Vitellius, the governor of Syria, Pilate was ordered to Rome to account for his actions to the emperor and is not mentioned again in reliable contemporary sources.
In view of his record, it is surprising that Pilate allowed himself to be pressured by a group of Jewish religious authorities into allowing Jesus to be executed. A possible explanation is that he already felt his position in the empire to be in jeopardy (note the threat implicit in John 19:12). Pilate seems to have had no personal inclination to put Jesus to death, and the New Testament writers are eager to show that he did not (Luke 23:4, 14, 22; John 18:38; 19:4, 6; compare Matt. 17:19). The Gospel writers sought to demonstrate that Jesus was innocent from the standpoint of Roman law and that consequently Christianity in their day was not a threat to the Roman political and social order. The fact that Jesus was brought to Pilate at all probably means that He had not been formally tried and convicted by the Sanhedrin, or Jewish ruling Council (if he had, he would probably have been stoned to death like Stephen, or like James the Just in A.D. 62). Instead, a relatively small group of Jerusalem priests, including the high priest, wanted to forestall any kind of a messianic movement by the people because of the repression it would provoke from the Romans (see John 11:47-50, 53). They maneuvered Pilate into doing their work for them (compare Luke 23:2). Pilate is represented in all the Gospels as questioning Jesus especially on the subject of kingship, but he remained unconvinced that Jesus was in any way a serious claimant to Jewish or Roman political power. The inscription he insisted on placing over the cross according to all the Gospels was Pilate's last grim joke at Jewish expense: "This is the King of the Jews." Anti-Jewish to the end, Pilate was telling the world, "What a sorry race this is, with such a pitiful figure for their king!"
HEROD (Hehr' uhd) The name given to the family ruling Palestine immediately before and to some degree during the first half of the first Christian century. Their family history was complex, and what information has come down has been frequently meager, conflicting, and difficult to harmonize. The chief sources are the references in the New Testament, the Jewish historian Flavius Josephus, and a few obscure references by Roman historians, such as Dio Cassius, Plutarch, and Strabo.
The most prominent family member and ruler was Herod, son of Antipater who had been appointed governor of Idumea by Alexandra Salome, the Maccabean queen who ruled Palestine 78-69 B.C. With the permission of the Romans, Antipater left his son Phasael as Prefect of Jerusalem and his second son, Herod, governor of Galilee. See Intertestamental History.
Herod the Great. Herod the Great was born about the year 73 B.C. and was a son of the desert, well adapted to the political intrigues of ambition, lust for power, and efficiency at warfare. He made a trip to Rome and was confirmed by the Senate as "king of Judea" in the year 40 B.C. He routed some persistently threatening robber bands in Galilee and gained the esteem of the Romans and even the support of some of the Jews by his decisive action. He finally brought Jerusalem under his control in the year 37 B.C.
His rule of Judea is usually divided into three periods: (a) The Period of Consolidation (37-25 B.C.), (b) The Period of Prosperity (25-13 B.C.), and (c) The Period of Domestic Troubles (13-4 B.C.).
During the period of consolidation, he had many adversaries, coming from at least four fronts. Jewish people refused to support him because he was not a full-blooded Jew, but a descendant of Esau. Herod also had difficulties with the Hasmonean family. See Hasmoneans. Chief among them was Alexandra, the evil and vicious daughter of Hyrcanus II. She interceded with Cleopatra, the queen of Egypt, who brought pressure on Mark Antony in an effort to put Herod under her control. This constant intrigue multiplied as time progressed.
Charges were brought against various members of the family. Within a short time Herod had executed Hyrcanus II, the son of Alexandra Salome who had returned from exile, Hyrcanus' daughter Alexandra, and her daughter Mariamne I, who was also Herod's favorite wife, the one whom he deeply and passionately loved. Mariamne had Maccabean blood flowing through her veins, was most beautiful, and Herod's hopes for establishing a dynasty rested with her and their two sons, Alexander and Aristobulus. Suspicious that Mariamne committed adultery and that her sons would use their Maccabean lineage for political advantage, Herod had them put to death. Herod also had executed Aristobulus III, son of Alexandra and brother of Mariamne soon after he was appointed by Herod to be high priest. Herod had him drowned at a celebration in Jericho soon after his inauguration.
Herod also faced an adversary in the person of Cleopatra, the famous queen of Egypt, but his craftiness enabled him to maintain his independence from her. Herod was successful in ingratiating himself to the Romans. By sheer force of personality and lack of hesitancy in executing even the close members of his own family, he strengthened his position as undisputed ruler of Palestine under the permission of Roman authority.
The second period of Herod's life involved the prosperity of his vast building programs. With the aid of the Romans the territory was extended to what had been unparalleled since the reign of Solomon (died 931 B.C.). His taxation of the people to support his building activity was extensive, but he virtually rebuilt every city in the land, even constructing entire cities from the ground up. He also built many palaces for himself.
Soon the now nearly four hundred-year-old Temple of Zerubbabel was pale in contrast to the magnificence of his new palaces and structures in Jerusalem. In the year 19 B.C. he embarked on an extensive remodeling of the Temple, which captured the imagination of the world of that day. It was frequently said that if one had not seen Herod's Temple, he had never seen a truly beautiful building (compare John 2:19-20).
The periods of Herod's life overlapped to some degree, but it was from the years 13-4 B.C. that his domestic troubles intensified and preoccupied him. Antipater, his firstborn son, and Salome, his sister, continually agitated the household and brought accusations against Alexander and Aristobulus, the sons of Herod and Mariamne. Finally, the charges of sedition could not be ignored. Herod brought charges against them before the Emperor in the year 12 B.C. Herod finally gave the order, and in 7 B.C. they were carried to Sebaste (Samaria) and strangled. Antipater continued to be an ambitious thorn in Herod's side. On his deathbed Herod gave the orders to execute Antipater, fearing that he would take the throne even before Herod himself died. Antipater was executed immediately. Herod himself died five days later (4 B.C.). He was seventy years old, a man racked with ill health and mental deterioration, now thought by some to be a form of progressive arteriosclerosis. He had reigned for 37 years since his confirmation by the Senate and 34 years since his capture of Jerusalem.
Herod, of course, was king of Judea under the Roman authority when Jesus was born in Bethlehem (Matt. 2:1). He received the Wise Men and sent them on to the Christ child with orders to return to him and let him know where he could find the newly born "King of the Jews" (Matt. 2:2-8). He gave the orders to kill the babies of Bethlehem two years old and under, in hopes of getting this One whom he saw as a successor to his throne (Matt. 2:16).
Herod had several wills. His final one designated Archelaus to succeed him as king of Judea (Matt. 2:22), another son Antipas to be tetrarch (governor) of Galilee and Perea, and another son Philip as tetrarch of the Northeastern Districts. The Romans banished Archelaus after a ten-year rule, and the kingdom was then transformed into an Imperial Province of the Roman Empire with Coponius as the first procurator (governor). Antipas continued to rule Galilee and Perea and was the one who had John the Baptist put to death (Matt. 14:1-12; Mark 6:16-29; Luke 9:9). Also, Jesus appeared before him during his trial, as Pilate the procurator sent Jesus to him for a possible decision (Luke 23:6-12).
See picture, This aqueduct built by Herod the Great brought fresh water to Caesarea Maritima.
Other Herods named in the New Testament include the following:
Agrippa I, the son of Aristobulus and grandson of Herod. He ruled with the title of king from A.D. 41-44. Agrippa I ordered James the son of Zebedee killed with the sword and imprisoned Peter (Acts 12:1-23).
Agrippa II, the son of Agrippa I, heard Paul's defense (Acts 25:13-27; compare Acts 26:32). With his death the Herodian dynasty came to an end, in title as well as in fact.
Drusilla (Acts 24:24) was the third and youngest daughter of Agrippa I. She had been married briefly at age 14 to Azizus, king of Emessa, probably in the year 52. In 53 or 54 she was married to Felix, the Roman procurator.
Bernice was the sister of Drusilla and Agrippa II, and also his wife. Paul appeared before them in Acts 25.
Herod Philip was the son of Herod the Great and Cleopatra of Jerusalem (Luke 3:1). He built Caesarea Philippi and was governor of the Northeastern districts of Iturea, Gaulinitis, Trachonitis, and Decapolis. He was married to Salome, the daughter of Herodias.
A Herod Philip is mentioned in Mark 6:17 as the first husband of Herodias. In some places he is mentioned simply as Herod, or Herod II. Most scholars do not believe that he was the same person as the governor of the northeastern districts.
Herodias (Matt. 14:3) was the daughter of Aristobulus (son of Herod and Mariamne I) and Bernice, the daughter of Herod's sister, Salome. She was the second wife of Herod Antipas and called for the head of John the Baptist (Matt. 14:3-12; Mark 6:17-29; compare Luke 3:19-20).
Salome was the daughter of Herodias. She was married to Philip. After his death in 34, she married a relative Aristobulus, prince of Chalcis and had three children (Matt. 14:6-12; Mark 6:22-29).
Herod was a paradox. He was one of the most cruel rulers of all history. His reputation has been largely one of infamy. He seemed fiercely loyal to that which he did believe in. He did not hesitate to murder members of his own family when he deemed that they posed a threat to him. Yet marital unfaithfulness and drunkenness did not seem to be among his vices. Because of his effective administration, he virtually made Palestine what it was in the first Christian century. He has gone down in history as "the Great," yet that epithet can only be applied to him as his personality and accomplishments are compared to others of his family.